2017-05-17, 08:33 AM
RoboTek
Junior Member


Posts: 40
Joined: Jan 2017
Reputation: 0
Accuracy Mechanics
Does anyone know how exactly the aiming system works?

Weapons seem to be terrifyingly accurate to me, all of them intersecting at close to the same point with every volley. At the same time, that point seems to be somewhat random, often being nowhere near the ship. From my perspective, this means there are this bizarre shot distributions, where ships are often completely missed repeatedly and sometimes are just wrecked.

Anyone know what exactly is going on here? Do weapons themselves really have any level of inaccuracy? Its very hard for me to tell.
2017-05-17, 09:28 AM
Finnwolf88
Cambrington Royal Navy


Posts: 255
Joined: Apr 2015
Reputation: 2
RE: Accuracy Mechanics
Weapons do indeed have inaccuracy in them which mostly comes down to how you build them. Long barrels woth long ammo makes them pretty darn accurate, but never 100% accurate. Shots fired by the same AI will converge on the aim point. Having the shots sometimes miss by a large margin is either due to them firing the first salvo too early, bad detection or target changing direction or speed rapidly. If you dont have an aimpoint card on your AI it will target a random block on the enemy vessel. If you do have one it will target AI and ammo barrels.
---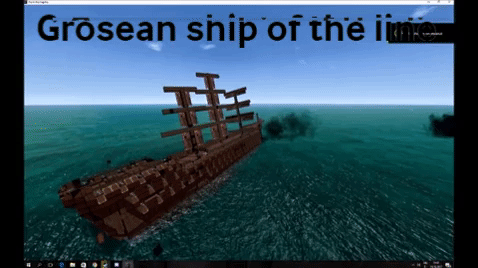 2017-05-17, 04:03 PM
RE: Accuracy Mechanics
I would suggest that if your guns are all shooting the same spot without much spread but that spot itself is somewhat random, then your problem is with your sensors rather than the guns. Sensor tuning is something of a trial & error process - settings you think should be best sometimes are not quite so effective in practice.
---
Poke my boat! mostly pre-2.0 learning & catalogue thread - Update:

Heavy & light tanks 07/04/18

for 2.1. 6 ships made 2.0 aware. If it's not AotE I can't do it regularily - sea -> post processing -> eyestrain.
2017-05-17, 07:33 PM
RoboTek
Junior Member


Posts: 40
Joined: Jan 2017
Reputation: 0
RE: Accuracy Mechanics
There is some inaccuracy, but we are talking maybe a few blocks on weapons. Compared to the scale of weapons and the scale of the bad idea of aimpoints, the individual weapon inaccuracy seems tiny.

Does nobody have any numbers here at all?

I mean, I get how APS accuracy seems to work according to the wiki.
It should range between 1.7% deviation with the most inaccurate shells, and 0.87% with more normal ones, decreasing fairly easily if you indeed care. These are just base values though, and their implications are very very hard to guess when stacking interactions. In theory 1.7% deviation seems fairly high. Travel 500m, and you will deviate 8.5 meters. Travel 1000 and you will deviate 17. That doesn't seem to actually be what is going on though. Tracers in theory halve inaccuracy, which is a pretty radical increase in precision.

Anyway, the point is, that is very hard for me to determine how the other inaccuracy effects work beyond the base. Do Cram shells even have inaccuracy, or are they all perfectly accurate? These questions are real for me.
2017-05-17, 08:46 PM
Zijkhal
Senior Member


Posts: 605
Joined: May 2016
Reputation: 1
RE: Accuracy Mechanics
According to the popup menu of the CRAM barrels, they do have inaccuracy.

1.7% is not that much in my opinion. Bad aimpoint can actually be helped by more inaccuracy in that at least some of the shells are gonna hit and not all miss. I belive the germans found that their ships with their superior guns in terms of accuracy actually missed more than the more less accurate guns of the british (either WW I or II, idk), simply due to evasive maneuvers, and inaccurate target prediction. Accuracy in that case meant that either all the shots miss the target or all hit.
---
This statement is false
2017-05-20, 04:43 AM
Lincrono
Citizen Soldier


Posts: 1,405
Joined: Jul 2016
Reputation: 5
RE: Accuracy Mechanics
all weapons have inaccuracy.

APS Cannons have an accuracy vs stationary targets that is usually no more than a degree (which is high, you want below .1 for sniper weapons and between .1-.4 for normal cannons). obviously this is assuming you have enough barrels AND your shells is moving fast enough to track the target through it's maneuvers

Lasers have accuracy similar to APS cannons.

PACs have accuracy similar to lasers but the value is also linked to the charge time, power levels, attenuation, and how far off bore (away from the centerline of the cannon) the weapon is trying to shoot.

Cram cannons follow an arcing trajectory and are quite slow so the distance from the target and how it's moving are much more important. They do however have some spread.

Missiles suffer inaccuracy due to limitations of their guidance.

The problem you seem to be having sounds different though. Try using an aimpoint card to stabilize the ship's aim (this will tell it to target ammo first, then AI, the advantage is it aims at one block, the default AI seems to shift frequently as the ship's position is updated, a good number of people have had issues with this 'barrel jitter.' If you don't like the limitations of the stock aim card the Protech Mod package gives you a ton of extra options. Since it's mostly a quality of life mod and a functionality mod and has few unique parts it's easier to use if you want to release your designs because anyone without the mod can still use the ship but just won't have the better aim and such (unless it relies on some of the more complex control options).

You may also be having issues with the last source of inaccuracy: detection. your ship's detection system should ideally be producing no more than 5m of error at range, I tend to tune mine until i'm getting 1m of error between 2-3km on a range of standard ships. if you have more error then the ship will struggle to find a good aim point.
---
-Do not bring forth an argument as fact that can be disproven with a 10 minute Google search.
User(s) browsing this thread: 1 Guest(s)